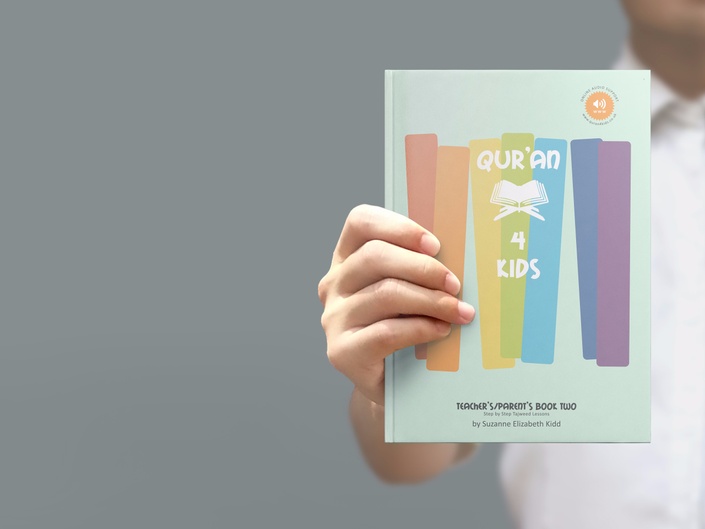 Silver - Advanced Tajweed Course plus books.
Level 2/Book 2
DOES YOUR CHILD STRUGGLE WITH THE TRADITIONAL WAY OF LEARNING QUR'AN?

The traditional way of teaching Qur'an does not work for all children, they often become bored and frustrated and develop a negative association with learning. This is the opposite of what we want for our children. I hear of daily struggles from parents who are looking for an alternative way to teach their children Qur'an. Some children don't receive the one to one teaching they need at Madressah, or the teaching methods simply don't work for their child. The Masjid may be too far away or as busy parents we don't have the time for the daily drop offs.
As parents we want our children to gain a love of learning Qur'an, there is a finally a fun and effective alternative that works!

If you don't know Tajweed yourself - don't worry our lessons are very simple to follow, many parents learn alongside their children. As your children become familiar with the lessons it is designed so they can learn independently as each lesson is broken up into easily digestible components. The lessons are well explained from beginning to end using engaging resources throughout the course.
I have received amazing feedback from parents all over the world MashAllah their children are enjoying learning Qur'an and making fantastic progress, you can read the reviews at the bottom of this page.
As a qualified and experienced Primary School and Tajweed teacher I have been fortunate enough to combine those skills providing a bespoke, child friendly Tajweed course which kids love!

WHAT DO THE COURSES COVER AND WILL MY CHILD BE ABLE TO RECITE QUR'AN?

With this Silver Package Level 2 you receive all the lessons covering the more advanced rules of Tajweed, once all the lessons are completed your children can move onto reciting the Qur'an InshAllah. Level 1 will need to have been completed before starting on Level 2. However if your children already have a good foundation of Tajweed you can start with Level 2 straight away. You will also receive Pupil Book 2, the Parents guide and the flashcards with this package.
Once your child has finished both courses and completed the lessons in their activity books, they will be equipped with everything they need to recite Qur'an confidently and fluently InshAllah. The Silver Package offers lifetime access to all lessons.
IS IT HARD TO STRUCTURE YOUR LEARNING AT HOME?
Many parents struggle to motivate their children to learn Qur'an and develop a structure at home. Quran 4 Kids helps by providing fun lessons which children enjoy and that are easy to understand. With my simple, step by step approach parents and children can easily break it up into daily or weekly Qur'an lessons. Once you establish this you'll never look back. I also offer free parent training sessions with this package where I help parents set up a timetable to suit their needs and offer advice on how to use the package most effectively.
WHAT AGE SHOULD I START TEACHING MY CHILDREN QUR'AN?
The best time to start is when your children are little as they are keen to learn and when taught in the right way they progress quicker and reach their true potential. You can start using our Courses with your children from age 4+.
HOW DO I KNOW THEY ARE PRONOUNCING EVERYTHING CORRECTLY?
I teach children the correct pronunciation from the beginning using visual and audio resources which are clear and easy to understand. Throughout each lesson I model pronunciation using flashcards, audio support and other fun activities . So don't worry if you are unsure of Tajweed because your children will learn correctly from the start making it easy to recite beautifully and confidently InshAllah. I can also arrange sessions to check their progress and help set goals.
An everlasting reward for both you and your children InshAllah
WHY CHOOSE QURAN 4 KIDS?
Today, more than ever, it's important to teach our children how to read the Qur'an in a way which they can relate to. Children are taught in school using high quality resources and the best teaching methods, teaching Qur'an needs to be of the same standard (if not higher) to engage our children and develop a love of learning Qur'an. With more and more parents looking to teach and learn Qur'an at home it is important to have everything you need at your fingertips.

CHILDREN LEARN IN DIFFERENT WAYS!
That's why all the Quran 4 Kids resources and online lessons teach children using VISUAL, AUDIO AND PRACTICAL LEARNING STYLES. So children can explore how they learn best and get the most out of each and every lesson. When they learn in different ways they are also fully engaged and focused.
The courses work alongside the Quran 4 Kids books and teaching aids which are available at www.quran4kids.co.uk.
Our method of teaching is based on the most effective way in which children learn ensuring quality teaching and learning and lots of fun too.

Course Overview:
Child friendly videos which correspond with all the lessons in the Quran 4 Kids book 2;
Multi-sensory activities to aid effective learning using craft activity methods;
Learn the correct pronunciation of the Arabic alphabet and different rules;
Gain a solid foundation of the advanced Tajweed rules.
To access our FULL range of Tajweed courses check out our most popular GOLD OFFER which is a structured course for those looking to learn Qur'an at home, covering all you need to know from beginning to end. Don't worry it's just as fun, packed with lots of engaging lessons and activities for children. You save a MASSIVE £70 with this Bundle which includes LIFETIME ACCESS to:
COMPLETE TAJWEED COURSE LEVEL 2,
QURAN 4 KIDS BOOK 2 AND FLASHCARDS (delivered to your door)!
You can access our Bundle Offer here:
https://quran-4-kids.teachable.com/p/tajweed-cours...
Example videos:
REVIEWS

Sister Thahira, Wales:

"The Quran 4 Kids course has been a great asset to us, our children ranging from age 4-6 love the lessons and look forward to watching them every day. Their only request is for the videos to be longer which can be taken as a word of praise. They also enjoy the activities in the books and from a teachers perspective we are also equally impressed. Each chapter is broken down into small, digestible components which are easy to grasp and understand but are also engaging. Tajweed gas never been more fun for students and easier for teachers to teach! The suggestions given in the lessons have been very helpful. The prices are very reasonable and affordable, Quran 4 Kids has been a pleasure to work through. Would recommend for anyone wanting to teach children Qur'an."

Sister Hifsah, Bolton;
"I really enjoyed this course and found it very beneficial. I found the ideas for childrens' learning excellent. The teaching strategies I learnt are dynamic as all children can benefit from this type of teaching, Thank you so much."

Sister Neelofar, Dewsbury:
"We learnt a lot from this course, different techniques and ideas on how to teach children Quran which are easy to understand and implement. A very informative course delivered well with great ideas and practical teaching strategies. To go with the course there is a good range of resources and tools, very informative and easy to follow and implement."
Munaza Kouser, Rochdale;
"A very enlightening course, lots of tips and tricks a must for all teachers and parents."
Shabnam Kouser, Rochdale:
"The course is very beneficial for teachers especially those who face problems with teaching children Quran. I would rate this 5 star and recommend it to all friends and family."
Tahira Sayed, Rochdale:
"I was having problems with some aspects of teaching this course gave me solutions for all of them, I am now full of ideas."
Qur'an teacher, Leicester:
"The course is fantastic, it has helped me so much to teach my children, a much needed course MashAllah."
Home schooling mum, Leicester:
"The course was full of excellent ideas I feel more prepared to teach my children at home."
Parent Maryam Tukur using Quran 4 Kids to teach her children at home:

"Salam! I am a parent using all the Quran 4 Kids resources to teach my children Quran at home. I can proudly say that they have made excellent progress, my 7 year old now has started to read suratul Bakara and I just can't believe that she can with in a short time. So if you are looking to teach children how to read Quran in a fun and easy way that they would love, then Quran4kids books, videos and other resources they are simply the best resources out there MashAllah!!
"I must mention that the teacher books and online courses are very very helpful and has helped me understand tajweed myself and be able to explain it to my children M.A!
"I can't thank the author Suzanne, enough for all her Hard work in making this possible, so I will just say Jazakallahu Khairan! May Allah reward abundantly.
Another happy parent using the Quran 4 Kids course and books
"A challenge for me is that I am very self taught and to teach with correct terminology and articulation requires preparation. But I love that aspect as I am enabled to learn along with her. I think the lesson lengths are perfect."
Your Instructor
I have been a Muslim since the year 2000 Masha-Allah and I qualified as a primary school teacher in 2002. For the past 7 years I have worked as a primary school teacher in a muslim school. I am currently working as a Special Educational Needs teacher. Through my degree, further training and work experience I have gained a great insight into how children learn.

In 2009 I set up the Special Educational Needs Department at Manchester Muslim Prep School, one of the leading North West Muslim schools, and taught as a special needs teacher and co-ordinator for a further 3 years.

I studied with Al Manhal, a UK based organisation which teaches tajweed and after passing my exam through the The Jordanian institute 'The Society of the Conservation of the Quran' and it is through Allah's mercy that I have been given this opportunity to apply what I have learnt into teaching children tajweed.
Class Curriculum
Chapter 1
Available in days
days after you enroll
Chapter 3
Available in days
days after you enroll
Frequently Asked Questions
When does the course start and finish?
The course starts now and never ends! It is a completely self-paced online course - you decide when you start and when you finish.
How long do I have access to the course?
How does lifetime access sound? After enrolling, you have unlimited access to this course for as long as you like - across any and all devices you own.
What if I am unhappy with the course?
We would never want you to be unhappy! If you are unsatisfied with your purchase, contact us in the first 30 days and we will give you a full refund.